Glartek is proud to announce the availability of its free remote visual assistance solution, GlarAssist, for Epson's Moverio smart glasses range
October 7, 2021 – Glartek, a leading brand in innovative Augmented Reality (AR) solutions for field services, asset-intensive, and manufacturing industries, partners with Epson to bring the GlarAssist, Visual Assistance product, to Epson's range of Moverio smart glasses.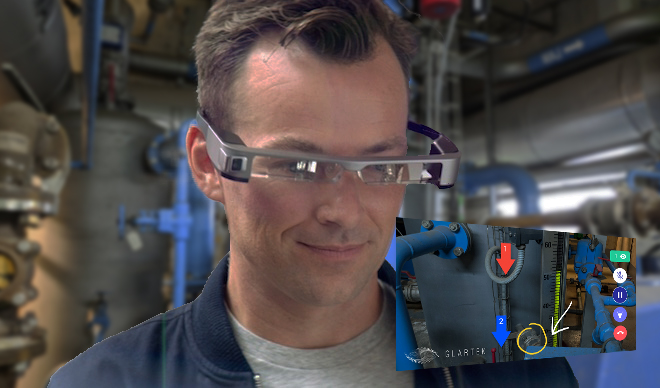 Epson Moverio smart glasses are ideal for hands-free remote assistance, such as Visual Assistance, Remote Guidance, Remote Collaboration, and more. The durability and, at the same time, the lightweight of Moverio smart glasses, supported by a clear binocular HD display, give frontline workers a comfortable option for head-mounted displays.
Hands-free solutions for frontline workers, together with a team of experts, have proven to increase the productivity and safety of operations on commercial floors. GlarAssist, with support for Moverio smart glasses, has no download or registration restrictions and the service is free for limited commercial use. GlarAssist boasts differentiating features such as support for more than three participants, Augmented Reality annotations, real-time cloud recording/rewinding, web guest users, and an advanced backoffice with the repository of all sessions.
"Becoming an Epson Authorized Reseller, being recognized as an Official Independent Software Provider (ISV) by Epson and supporting GlarAssist in the Moverio Smart Eyewear range provides our users with a great choice for Smart Eyewear. Clear high-definition allows front-line workers to see the smallest detail on the screen, so important for accessing information and solving problems faster", says Luís Murcho, Co-founder and COO of Glartek. GlarAssist is available on the Epson Moverio BT-350 and coming soon on the Epson Moverio BT-35E Solution Pack.
"Companies are evolving very quickly to stay ahead of the curve and adapt to the needs of today's work by incorporating new remote assistance tools into everyday processes. Glartek and us are excited to share that different companies in different industries will be able to easily connect users to collaborate in real time, increasing their productivity and improving their processes. We are delighted to be working with Glartek to harness the power of AR for real-time collaboration," says Roger Artigues, Sales Director of Video Projection & Augmented Reality Solutions at Epson Ibérica.
---
About Glartek: Glartek, founded in 2017, is a leader in Augmented Reality (AR) solutions for the Industry. Its mission is to increase the efficiency and safety of industrial processes. Glartek's software solutions combine the AR and Internet of Things (IoT) domains to bring visibility, optimization, and reassurance of field operations. Its wide range of customers vary from asset-intensive companies such as EDP and Manufacturing companies, such as Renault. Glartek is headquartered in Lisbon, Portugal and has raised over €1.5M in venture capital.
About Epson: Epson is a global technology leader dedicated to co-creating sustainable and empowered communities, leveraging its efficient, compact, and precise digital technology to connect people and information. The company is focused on solving social issues through innovation in home and office printing, commercial and industrial printing, as well as manufacturing, visual communication, and lifestyle. Epson is committed to having a negative carbon footprint-free of exhaustible underground resources such as oil and metal by 2050.